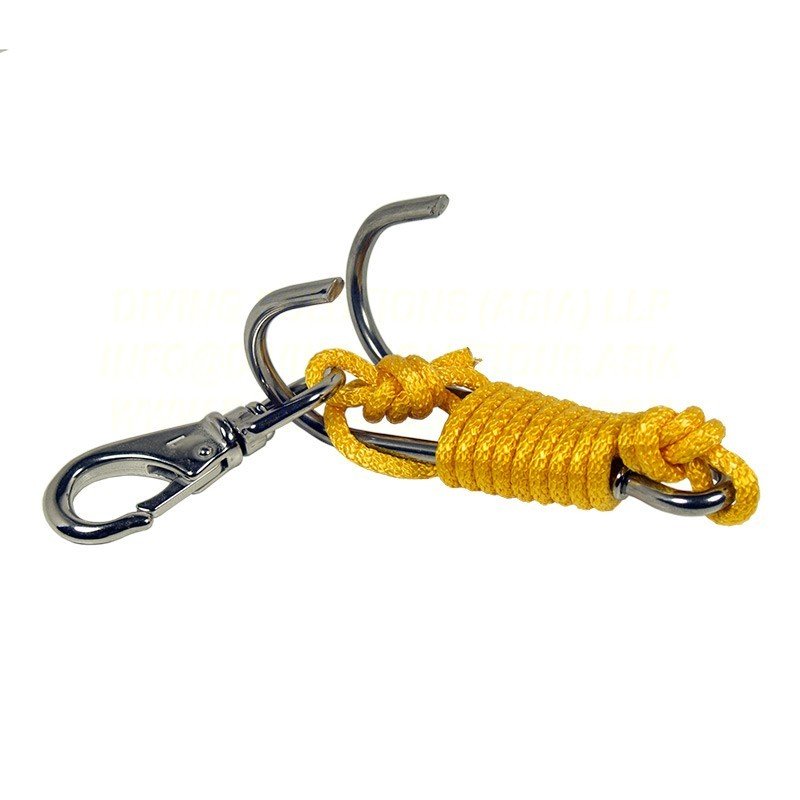  
Double Reef Hook with line
Reference: 10040077
Useful to attach yourself to a rock or DEAD reef in strong currents.
Store policies
Calculate Delivery Cost
This reef hook is the perfect accessory for recreational divers and photographers who dive in strong currents. This reef hook enables you to attach yourself to rocks while diving in strong current so you can remain in the same spot without having to overexert yourself.  This reef hook features a double hook to provide increased security even in the strongest of currents.
This is perfect for photographers who need to focus on their subjects and stay stable during dives in difficult conditions. The hook is made of stainless steel, therefore, ensuring it is resistant to corrosion, and will not break in difficult conditions. It also comes with a 106 cm (42 inches) bright yellow line to give you maximum flexibility and visibility while you are attached to rocks. A stainless steel clip is attached to the end of the string enabling you to clip yourself to the hook.
It is important to state that this device is not to be used on live coral as it will cause irreparable damage to it.
Data sheet
Material

Stainless Steel (hook)

Length (1)

Line : 106cm (42 inches)

Color

Yellow (line)
related products
Finger spool, with orange line
Can be used for pointing or signalling your buddy, by banging your tank.
Used to attach yourself to a rock or DEAD reef in strong currents.
16 other products in the same category: