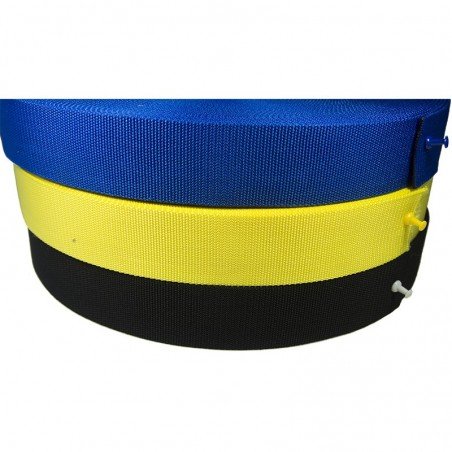  
This Nylon webbing is a great piece of equipment for all divers. Commonly used for weight belts or for harnesses, this strong Nylon webbing is perfect for replacing your worn out weight belt or for those of you building their own BCD. This webbing is made of super-resistant material perfect for supporting heavy gear in salt-water environments.
This webbing is 2,57mm thick (0.07 inch) making it stiffer and of superior quality compared to other types of webbing, therefore ensuring its resistance to tears and harsh environments making it more reliable and providing a longer lasting lifespan. It comes in three different colors, blue, yellow and black, to allow you to fit it to your tastes and equipment perfectly.
This strong Nylon webbing is also sold by the meter to ensure you get the perfect fit for your needs and the best value. 
Data sheet
Width

5cm (2 inches)

Material

Nylon

Height

0.28cm (0.11 inches)

Color

Black/Blue/Yellow
Welcome to MyPrestaReviews!
To start enable reviews & rating system you need to follow several simple steps.
Don't worry -
this is free
!
2 Step:
Add your website & copy secret key;
3 Step:
Go to «admin panel - modules - Myprestareviews» & paste secure key;
Thats all! Also, you can watch the video instruction:
Watch how it works
16 other products in the same category: