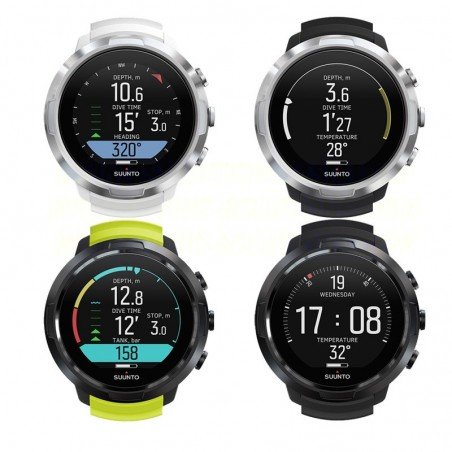  
The D5 is easy to read and easy to use dive computer from Sunnto.  Personalize your D5 by changing your strap color to suit your own style, after your dive you can easily download your dive data onto your mobile device using wireless connectivity.
Reinforced composite with mineral crystal glass
Full continuous decompression algorithm - Suunto Fused RGBM 2
Gas-switching between up to three gases
Five modes: air, nitrox, gauge, free and off
Integrated digital compass
Updateable firmware
Optional wireless air integration – current cylinder pressure, remaining air time
Built-in dive planner
Bluetooth connectivity
Rechargeable battery
Data sheet
Weight

90g (3.17 oz)

Material

Reinforced Composite/Stainless Steel

Height

16.3mm (0.64 inches)

Diameter

53mm (2.09 inches)
Welcome to MyPrestaReviews!
To start enable reviews & rating system you need to follow several simple steps.
Don't worry -
this is free
!
2 Step:
Add your website & copy secret key;
3 Step:
Go to «admin panel - modules - Myprestareviews» & paste secure key;
Thats all! Also, you can watch the video instruction:
Watch how it works
10 other products in the same category: