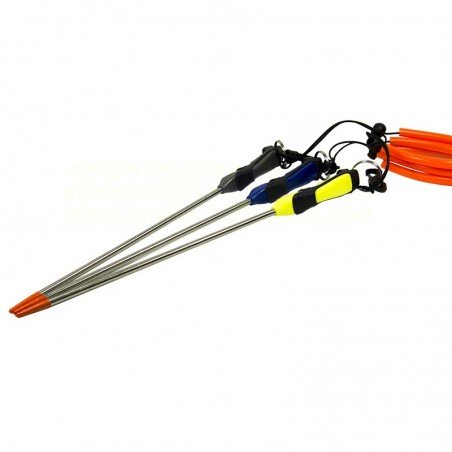  
Stainless Steel Pointer with Handle
This pointer is a great multi-use accessory to add to your dive gear whether you are a recreational diver or a professional diver.
This pointer is 35 cm long (14 inches) enabling you to easily and safely point at interesting marine features during a dive. This pointer is long enough so you do not have to get close to elements you are trying to show, therefore avoiding any risk of sediment disturbance clouding the visibility and avoiding any risk of harming yourself. This pointer is made of stainless steel making it very resistant to corrosion and therefore ensuring a longer lifespan. 
It is constructed with a molded plastic handle for increased comfort and comes in three different colors to fit all tastes, blue, yellow and black.  It also comes with a bungee so you can securely wrap it around your wrist and attach it to your BCD during a dive. 
Data sheet
Material

316 Stainless Steel

Length (1)

350mm ( 13.75 inches)

Diameter

6.3mm (0.25 inches)
Welcome to MyPrestaReviews!
To start enable reviews & rating system you need to follow several simple steps.
Don't worry -
this is free
!
2 Step:
Add your website & copy secret key;
3 Step:
Go to «admin panel - modules - Myprestareviews» & paste secure key;
Thats all! Also, you can watch the video instruction:
Watch how it works
16 other products in the same category: