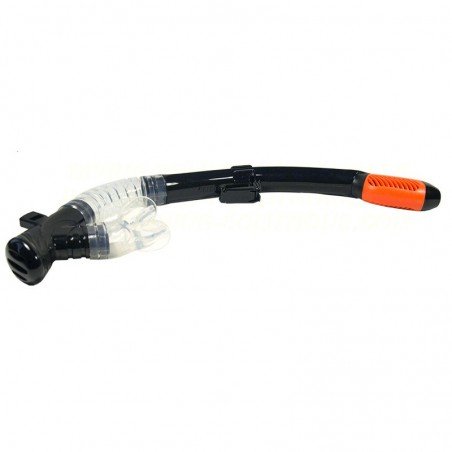  
Fully Dry Snorkel with built in whistle
This Aropec snorkel is the perfect piece of equipment for divers and snorkelers. It is a 100% dry snorkel meaning that the snorkel is designed with a floating mechanism at the top preventing water from entering the snorkel as the snorkeler dives down for example.
Once the snorkeler comes back to the surface the floating device unlocks the airway again, therefore enabling the snorkeler to breath normally. The body of the snorkel is made of PVC with silicone connections and has a curved barrel specially designed to reduce drag while swimming. It has a soft replaceable silicone mouthpiece, which sits comfortably in the snorkeler's mouth while swimming therefore avoiding jaw ache.
Moreover, this snorkel has an integrated alert whistle located underneath the mouthpiece making this product perfect for the safety of divers and snorkelers. It also comes with a solid PVC retainer, which enables you to attach and detach the snorkel easily onto your mask and eliminates the risk of losing it.
Welcome to MyPrestaReviews!
To start enable reviews & rating system you need to follow several simple steps.
Don't worry -
this is free
!
2 Step:
Add your website & copy secret key;
3 Step:
Go to «admin panel - modules - Myprestareviews» & paste secure key;
Thats all! Also, you can watch the video instruction:
Watch how it works
2 other products in the same category: