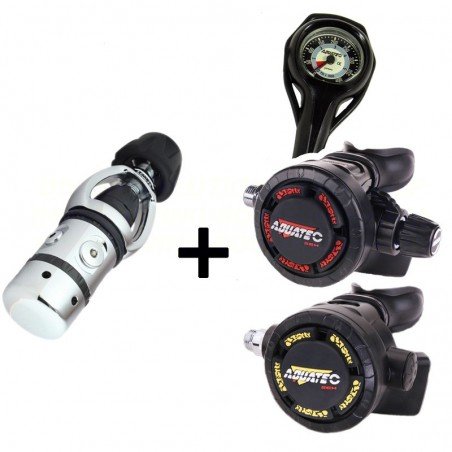  
Entry Level, Piston Regulator
The Aquatec RG-3100F is an unbalanced piston-based 1st stage, with a time-tested design for demanding conditions.  This is the 1st stage of choice for a beginner or rental regulator, it comes factory cleaned and ready for up to 40% Nitrox.  A simple design, easy to maintain and great value.
The 1st stage features one high-pressure port, and four low-pressure ports; with an intermediate pressure of 9.5~10.2 BAR.  CE Approved and manufactured from chrome plated brass with stainless steel springs for long life.
Pair with an Aquatec Primary and Secondary 2nd stage, and a brass pressure gauge (BAR); NOTE regulator does not come with a power inflator hose.
Read our blog post about Unbalanced 1st Stage HERE
Welcome to MyPrestaReviews!
To start enable reviews & rating system you need to follow several simple steps.
Don't worry -
this is free
!
2 Step:
Add your website & copy secret key;
3 Step:
Go to «admin panel - modules - Myprestareviews» & paste secure key;
Thats all! Also, you can watch the video instruction:
Watch how it works
3 other products in the same category: