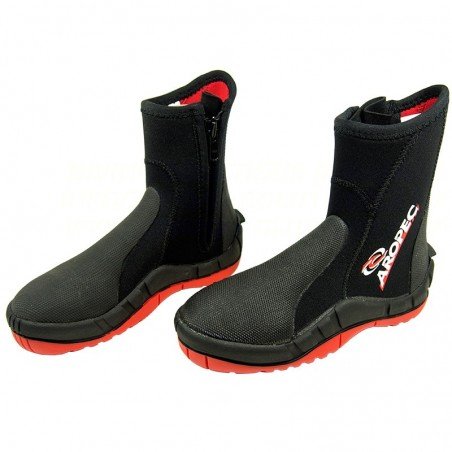  
This pair of high-cut booties is a great piece of equipment for divers owning open-heel fins.
These boots are designed to protect divers' feet and keep them warm and comfortable during the dive or on the boat. This pair of booties is lined with 5 mm titanium ensuring perfect isolation from the cold and great protection for your feet. They are double glued and blind-stitched to keep water flow to a minimum and ensure a comfortable fit. They are designed with heels and toe caps to maximize the protection of your feet and ensure the product durability.
The soles are hard and non-marking which makes this pair of high-cut booties perfect for walking on hard ground and boats without running the risks of leaving sole marks. They are Aropec built which ensures you a high-quality product and are designed with a durable YKK zip. They come in different sizes to fit all types of feet.  
Welcome to MyPrestaReviews!
To start enable reviews & rating system you need to follow several simple steps.
Don't worry -
this is free
!
2 Step:
Add your website & copy secret key;
3 Step:
Go to «admin panel - modules - Myprestareviews» & paste secure key;
Thats all! Also, you can watch the video instruction:
Watch how it works
3 other products in the same category: