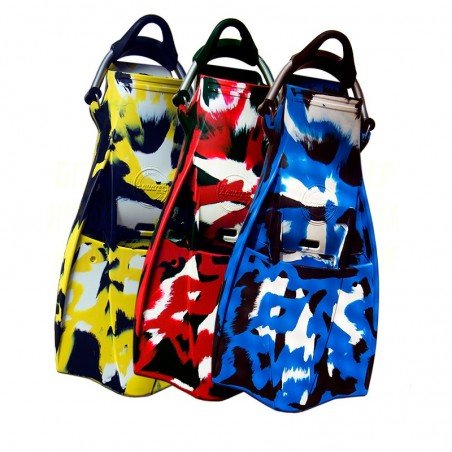  
Aquatec Rubber Fins - Camo
These Aquatec rubber fins "jet fins" are the tried and tested, high performing fin for technical, experienced and beginner divers alike. The heavy-duty rubber construction ensures durability and a lifespan lasting many years to come. 
Moreover, the Aquatec rubber fins are designed to provide exceptional power, great blade-end snap and superior propulsion with alternate kicks.  In addition to power, the Aquatec rubber fins are designed to be negatively buoyant ensuring very good stability, assisting trim and increasing maneuverability. 
The Aquatec rubber fins come with heavy-duty straps made from stainless steel springs making them convenient and easy to put on and remove, flexible while in use as well as extremely durable and long-lasting.  These fins are available in a variety of sizes including medium, large and extra-large and also in a huge variety of colors ensuring a fin is available to suit everyone's size and taste!
Sizes:
M = US6 ~ US8
L = US9 ~ US11
XL = US12 ~ US13
(size will be dependant on your bootie style, i.e. Hard sole booties will need larger size)
Welcome to MyPrestaReviews!
To start enable reviews & rating system you need to follow several simple steps.
Don't worry -
this is free
!
2 Step:
Add your website & copy secret key;
3 Step:
Go to «admin panel - modules - Myprestareviews» & paste secure key;
Thats all! Also, you can watch the video instruction:
Watch how it works
3 other products in the same category: