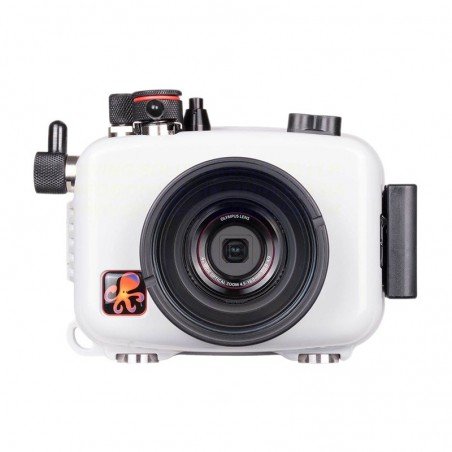  
Ikelite Olympus TG-5/TG-6 Casing
This underwater casing for the Olympus TG-5 camera offers a fully waterproof casing (max depth 60m/198ft).  It features a 67mm (2.63 inches) lens port, giving you the ability to further improve the TG-5's macro capability or add a wide angle dome for underwater scenery shots.
The casing features a side mounted shutter lever which makes taking pictures easier and more comfortable.  Due to the effect of backscatter, the internal flash is covered, but can still be used to trigger an external flash using a fiber optic cable.  This casing supports two ports allowing the camera to trigger two independent strobes if required.
All the camera controls are accessible when inside the casing, offering maximum control of your camera.  There is a 1/4-20 thread in the bottom of the casing to allow mounting onto tray systems or adding accessories.
Data sheet
Width

141mm (5.5 inches)

Depth

60m (200 feet)

Material

ABS-PC

Length (1)

158mm (5.3 inches)

Height

85mm (3.6 inches)
Welcome to MyPrestaReviews!
To start enable reviews & rating system you need to follow several simple steps.
Don't worry -
this is free
!
2 Step:
Add your website & copy secret key;
3 Step:
Go to «admin panel - modules - Myprestareviews» & paste secure key;
Thats all! Also, you can watch the video instruction:
Watch how it works
16 other products in the same category: