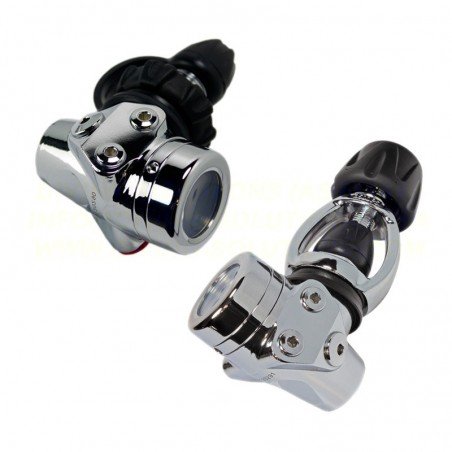  
The Aquatec RG-4100F is a balanced diaphragm design 1st stage, offering a consistent airflow independent of depth/tank pressure.  This is a compact 1st stage featuring two high-pressure ports, and four low-pressure ports; with an intermediate pressure of 9.5~10.2 BAR. 
Designed for cold water use, and manufactured from chrome plated brass with stainless steel springs for long life.
Data sheet
Material

Brass / Stainless Steel

Length (1)

145mm (5.7 inches)

Height

80mm (3.1 inches)
Welcome to MyPrestaReviews!
To start enable reviews & rating system you need to follow several simple steps.
Don't worry -
this is free
!
2 Step:
Add your website & copy secret key;
3 Step:
Go to «admin panel - modules - Myprestareviews» & paste secure key;
Thats all! Also, you can watch the video instruction:
Watch how it works
3 other products in the same category: